- Events -
Plant Protection Events
Report on
The 12th Arab Congress of Plant Protection
Hurghada, Egypt, 5-9 November 2017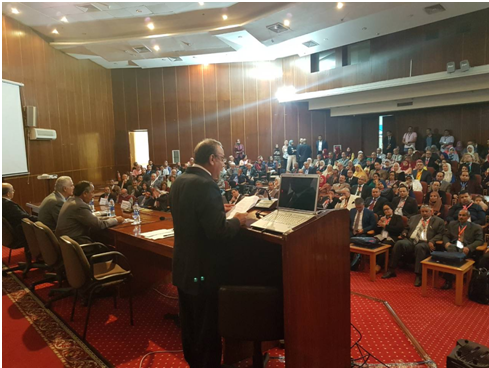 The 12 th Arab Congress of Plant Protection (12 th ACPP) was held in Hurghada, Egypt, 5-9 November 2017, organized jointly by the Arab Society for Plant Protection and the Agricultural Research Center, Egypt, represented by the Plant Protection Research Institute and the Plant Pathology Research Institute. The congress was supported by more than 20 National and International organizations/institutes/companies. Aroud 300 scientists from the Arab region, Europe and USA participated in this event. The aim of the congress was to share new research developments in the field of plant protection among scientists in the Arab region and globally.
Sessions of the 12 th ACPP were organized in three concurrent sessions over four days, in addition to a one day touristic trip to Luxor. The Opening Ceremony was held under the auspices of his Excellency Prof. Dr. Abdel Moneim El Banna, Minister of Agriculture and Land Reclamation, Egypt, followed by the presentation of two keynote addresses; the first one presented by Dr. R. Muniappan, IAPPS and Director, IPM Innovation Lab, Virginia Tech, USA on "Building bridges between plant protection disciplines for sustainable management of crop pests", and the second presented by Dr. Fadel Mohamed Aly, Biophysics Department, Faculty of Science, Cairo University, Egypt, on "An innovative method for the treatment of plants and soil by extremely low frequency electromagnetic pulses to control plant diseases".
The scientific program each day included a symposium and concurrent oral sessions and poster viewing. The themes of the four symposia was as follows:
- Symposium I . Implications of Disease and Insect Pest's Biology and Ecology on Designing Pest Management Strategies.
- Symposium II . Advanced Technologies and Plant Protection.
- Symposium III . Management of Newly Emerging and Serious Pests: the Case of Olive Decline Caused by Xylella fastidiosa, a Threatening Disease to Olive Production in the Mediterranean Basin.
- Symposium IV . Impact of Climate Change on Plant Protection under Mediterranean and Oasis Conditions.
The concurrent oral sessions included three entomology sessions, two on plant extracts, three on fungal diseases, two on viral diseases, three on pesticides, five on biological control, one session on IPM, one session on nematodes, three on economic entomology, one on bacterial diseases, one on beneficial insects and one on mites. In addition, two special sessions were organized, one on Tuta absoluta, and the other on scientific publishing.
Poster viewing was organized in two sessions: The first session included posters on entomology, economic entomology, plant extracts, biological control and IPM. The second session included posters on fungal and viral diseases, pesticides, weeds and beneficial insects.
Towards the end of the congress, the Arab Society of Plant Protection organized the election of a new ASPP executive committee for the period 2018-2020. Dr. Bouzid Nasraoui (Director General of INRAT, Tunisia) was elected as vice-president. The new executive committee is composed as follows: Dr. Ibrahim Jboory, President (Iraq), Dr. Bouzid Nasraoui, Vice-president (Tunisia), Dr. Mustapha Haidar, Secretary-Treasurer (Lebanon), Dr. Ahmed Katbeh, Member (Jordan), Dr. Safaa Kumari, Member (Syria), Dr Hassan Dahi, Member (Egypt), Dr. Houda Bouraghda, Member (Algeria), and Dr. Khaled Makkouk, Member (Lebanon). Furthermore, Tunisia was chosen as the country to host the 13 th ACPP in 2020.
Dr. Asma Najar
ASPP Tunisia Representative
RL/Plant Protection
INRAT, University of Carthage
Tunisia